Isle of Wight Nostalgia - Famous Caulkheads, Grockles & Overners
A page for Caulkheads, Overners & Grockles who were born on, chose to live on, or loved to visit the Island
Robert Hooke - He was the son of John Hooke, the curate of All Saints, Freshwater. He was born there in 1635. His father died in 1643 and Robert went to London to be apprenticed to Peter Lely, the portrait painter. He did not remain long but went to Westminster School and later to Oxford as a chorister. Here he became interested in science and inventor the balance spring for watches. He died in 1703.
King Charles 1 - The King was held prisoner in Carisbrooke Castle for a year. He escaped to the Island in November 1647 where he thought he would be safe but the Governor, Colonel Hammond was a parliamentarian and put him in prison. Despite two escape attempts he remained there until September 1648, when he was removed to Newport, then to Hurst Castle in November and finally to Windsor. He was executed on January 30th 1649.
John Nash - Nash was an architect and had been visiting the Isle of Wight since 1793. In 1798 he bought land in East Cowes and built a country retreat - East Cowes Castle (demolished in the 1960's) where he occasionally entertained Joseph Turner. He retired here in 1834 and died in May 1835. He is buried in St. James' Church, East Cowes.
Algernon Swinburne - Born in London in 1837, his family moved to Bonchurch shortly after. At fist East Dene was rented but Captain Swinburne bought it in 1841. He was educated at Eton & Oxford but returned to the Island in 1863. He spent much time at Northcourt, the home of his cousin, Mary Gordon (later Mrs. Disney Leith). East Dene was sold in 1865 but Swinburne was buried at Bonchurch in 1909.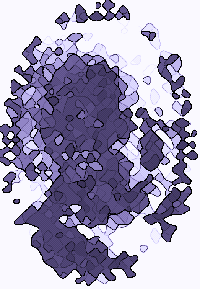 Queen Victoria - Victoria bought Osborne House from the Blachford family in 1845 and she & Prince Albert moved in, in 1846. The house proved to be too small and Albert set about re-designing and rebuilding it in partnership with Thomas Cubitt, the builder. Close your eyes slightly to reveal Queen Victoria in the image on the left.
Princess Beatrice - Born in 1857 by which time family visits to Osborne were part of the established routine. Beatrice, the youngest of Victoria & Albert's nine children, became her mother's companion. In 1885 she married Prince Henry of Battenburg at Whippingham Church. Henry was made Governor of the I.W. in 1889 and on his death in 1896, Beatrice was granted the position, which she retained until her own death in 1944.
Alfred Lord Tennyson - Tennyson first rented Farringford in 1853 and bought the house in 1858. In later years he was harassed by sightseers and in 1869 decided to move to Haselmere. However he still spent the winter months here. His last stay was in June 1892 and he died the following October. The downs above Freshwater bear his name.
Thomas Letts - He did not invent diaries but probably improved them out of all recognition. He was born in 1803 in London but moved to the Island some time before 1859. He bought a house called Sea View at Chale and lived there until his death. He was buried at Norwood Cemetery. In 1864 he erected a small temple to commemorate the tercentenary of Shakespeare's birth.
Julia Margaret Cameron - The photographer moved to the Isle of Wight in 1860 when she bought Dimbola in Freshwater. She was given her first camera three years later and shortly afterwards began to win international awards, and to hold exhibitions. She left the Island in 1875 to return to Ceylon where her husband owned coffee plantations. She died there in 1879.
Professor John Milne - He spent nearly 20 years in Japan studying seismology - a science which he virtually founded in its modern form. Born in Liverpool in 1850 he retired from Japan to Shile Hill House in 1895. He built an observatory there and many visitors and students came to his house. He died in 1913 and is buried in St. Paul's, Barton.
Guglielmo Marconi - Marconi was born in 1874 and moved to England in 1896 after the Italian post office refused to test his new wireless equipment. His mother was a Jameson of whisky fame. He wanted to promote his work on the wireless telegraphy and England was the obvious place. In 1897 he chose Alum Bay as one of the sites for his experiment. He erected a 40 metre mast outside the Needles Hotel from where he transmitted to the Haven Hotel in Poole nearly 20 miles away. Experiments were carried out for about a year, including one involving a link-up between the Prince of Wales, on the Royal Yacht Osborne and Queen Victoria at Osborne House. Marconi then transferred his attention to cross-channel links. He experimented from Knowles Farm, Niton where there is a stone cut with the following inscription - "This is to commemorate that Marconi set up a wireless experimental station here in A.D. 1900". While in Niton he stayed at the Royal Sandrock Hotel (see the Undercliff photo pages for a picture of the hotel now, sadly demolished).
Uffa Fox - Born at East Cowes in 1898, he spent almost his entire life on the Island, although he actually died at the home of friends in Worcestershire. He was a notable local "character" who included royalty amongst his friends. He designed and built many famous boats - one of the more recent being the Britannia in which John Fairfax crossed the Atlantic single-handed (the boat was built by the local firm Lallows in Cowes).
Barnes Wallis - The inventor of the bouncing bomb amongst other things, was born in Derbyshire in 1887. He began his apprenticeship as an engineer with the Thames Engineering Company, but in 1908 he transferred his indentures to J. Samuel White at Cowes. He left in 1913 when he was offered a job at Vickers as Chief Assistant designing airships. He died in Leatherhead in 1979.
Earl Mountbatten of Burma - Born Prince Louis of Battenburg in 1900, he was the fourth child and second son of Prince Louis of Battenburg and Princess Victoria of Hesse (a grand-daughter of Queen Victoria).
Alfred Noyes - The poet moved to the Isle of Wight in 1929 and made his home on the Undercliff at Lisle Combe, where his family still live. He spent the war in Canada but returned to the Island in 1949 and died here in 1958. He is buried near Farringford.
J. B. Priestly - The author moved to the Isle of Wight in 1933 when he lived at Billingham Manor. He later moved to Brook Hill House before moving back to the mainland in 1959.
Sir Christopher Cockerell - The inventor of the hovercraft spent two years from 1959 on the Island developing his first prototype at East Cowes.
William Arnold - was in the Revenue Service as the Collector of Cowes with responsibility for Customs Duty between Southampton and Poole. His son was Thomas Arnold (1795-1842) the famed Dr. Arnold of Rugby (School) as portrayed in "Tom Brown's Schooldays". Thomas Arnold, in his early days of education was sent to Warminster School (Wiltshire) before going to Winchester College and then Oxford University. His son, Matthew Arnold (1822-1888) became the well-known poet and critic.
David Niven - In his autobiography 'The moon's a Balloon' actor David Niven says he spent part of his childhood living at Rose Cottage, Bembridge.
Philip Norman - novelist, attended Ryde School. He has written novels about his childhood on the Island.
Revd. Leigh Richmon - Vicar of Brading and writer. He wrote the famous Dairyman's Daughter, the story of Elizabeth Wallbridge. The book influenced writers from Charlotte Bronte to Charles Dickens and sold over 10 million copies in 40 languages. There is a picture of The Dairyman's Daughter on the railway map at Arreton.
Anthony Minghella - playwright. He is thought to have attended Sandown Grammar School, where he helped direct several school plays. He was a scriptwriter for Grange Hill, Inspector Morse, and the films Truly Madly Deeply and the Talented Mr Ripley.. He won an Oscar for Director of The English Patient . His father still owns Minghella's Ice Cream factory in Wootton.
Virginia Bottomley - the famously tone deaf Conservative minister spent part of her childhood on the Island.
Elizabeth Wallbridge - was The Dairyman's Daughter. The book about her written by The Revd. Legh Richmond, Vicar of Brading, was the most widely read religious tract of the 19th century. Born in 1770 at Arreton, the book chronicled her conversion to Methodism and her death at the age of 30 from consumption. Her grave in the church at Arreton was a scene of pilgrimage for thousands, including Queen Victoria. There is a picture of The Dairyman's Daughter on the railway map at Arreton.
Albert Ketelbey - (1875 - 1959) the composer famous for compositions such as "Bells Across the Meadow", "In a Monastery Garden" and "In a Persian Market". He was born in Aston, Birmingham 9th August 1875, moved to Egypt Hill, Cowes and died there 26th November 1959.
Samuel Wilberforce - He was for a time Rector of Brighstone before appointment as Bishop of Oxford, later Bishop of Winchester. He is one of the Three Bishops commemorated in the pub name at Brighstone. Samuel's father, William Wilberforce, campaigned for the abolition of slavery and is also thought to have visited the Island. While Bishop of Oxford, Samuel Wilberforce attacked Darwin's book "Origin of the Species" in a debate at the University while Thomas Huxley defended Darwin's ideas.
Joseph Turner - Born in Covent Garden in 1775. Twenty years later he visited the Isle of Wight. He returned in late summer and must have stayed for at least a week, possibly longer, as he travelled around the Island filling his sketchbook. In 1827 he returned as a guest of John Nash at East Cowes Castle.
John Keats - He visited the Island twice, the first time in April 1817, when he stayed at Carisbrooke. Here he began work on Endymion. He returned in 1819 for health reasons as he was suffering from consumption. He stayed at Eglantine Cottage in Shanklin from July 1819 until the middle of August.
Charles Dickens - Dickens stayed at Winterbourne, Bonchurch, in 1849. He arrived in July and although he planned to leave at the end of September, he stayed until October. Whilst here, he wrote two drafts of David Copperfield - one of which was probably the final version.
Thomas Bobington Macauley - He was already working on his History of England when he came to stay at Madeira Hall, Bonchurch, for a working holiday in 1850. He arrived late in August and stayed until the end of September. He died two years later.
Henry Wadsworth Longfellow - The American poet visited Shanklin in July 1868. The fountain outside the Crab Inn where he stayed still bears an inscription written by him. While on the Island he visited Tennyson at Farringford and sat for Mrs. Cameron.
Karl Marx - Like so many others, he visited the Island for health reasons. His first visit was to Ryde in the Summer of 1874. He returned to stay in Ventnor in December 1881, after his wife died but the stay was short and he returned to London in the middle of January 1882. He returned at the end of October the same year. He left in the middle of January, following the death of one of his daughters. he died in March 1883.
Winston Churchill - He spent part of his summer holidays of 1888 at Ventnor staying with the sister of his nurse (Mrs. Everest). Her husband was a prison warder at Parkhurst. He also came in January 1889 to recuperate from a short illness and again in 1910 to help the Liberal candidate in an election. The house was originally 'Flint Cottage', now the reception to Ventnor Holiday Villas (see picture right). A plaque on the wall of the cottage reads "Sir Winston L P Churchill 1874 - 1965 Stayed at Flint Cottage in 1878, the first of many visits to Ventnor. Whilst here he saw the wreck of H. M. training ship Eurydice which capsized off Dunnose March 24th 1878 with the loss of more than 300 lives."
Lewis Carroll - Lewis Carroll stayed at Sandown while collecting material for 'Alice'. "The Snark" was another of Carroll's great works and whether or not he wrote it on the Island, I've decided to link to it anyway!
Dekyi Tsering - mother of the present Dalai Lama (she is known to Tibetans simply as 'Amala' which means 'the Great Mother'). Following the Chinese invasion of Tibet in the 1950s, His Holiness the 14th Dalai Lama fled into exile in India - where he remains to this day. Members of his family left Tibet with him and settled in India; due to the changes in altitude and climate, Amala started having problems with her health not long after arriving in India. A doctor in Delhi also diagnosed a throat polyp, but he assured her that it was benign and arranged for its removal in St Mary's Hospital in London. After the operation in 1960, Amala and her companion/translator (a Tibetan lady named Mrs Rinchen Dolma Taring) left London and crossed to the Isle of Wight where Sir Basil Gould's widow, Cecily, lived. Lady Gould arranged for Amala to convalesce in a guest house in Freshwater, insisting with the owner that she be allowed to stay there incognito. Amala and her companion stayed on the Island for 6 weeks; apparently they had the whole guest house to themselves, and the weather was glorious throughout their stay.
Charles Darwin - Darwin began his world famous 'Origin of the Species' while staying at the Kings Head Hotel.
Issac Pitman - Pitman wrote his shorthand dictionary while staying here.
John Brett - Pre-Raphaelite artist who visited the Island and painted at least one landscape.
George Moreland - Artist who frequented the Inn at Freshwater Bay which has become The Albion and tried to avoid his creditors!
Margaret Thatcher - stayed at The Pier Hotel in 1959 and after that she rented a house in Seaview.
Shaw Taylor - TV crime reporter from Police 5 etc. with his distinctive catchphrase 'keep 'em peeled' lives in Totland.
Robert Stigwood - Robert Stigwood Bee Gee's Manager and owner of theatres in London lives at Barton Manor, East Cowes.
Michael Sheard - Michael Sheard (famous as Mr Bronson in Grange Hill school Programme and role in Starwars Films) lives in Ryde.
Celia Imrey - from absolutely Fabulous and many other TV shows lives in Cowes.
Alan Titchmarsh - TV Gardener of many BBC gardening shows (including Ground Force where he appears with Charlie Dimmock) has a house in Cowes.
Keneth Kendal - ex-newsreader now lives in Cowes.
Jack Douglas - famous from many 'carry on' films lives in Shanklin
Bill Pertwee - Bill Pertwee (the fire warden in Dad's Army) also in Totland next door to Shaw Taylor
Jet Harris - formerly of the Shadows lives in Bembridge and does shows about twice a year and they are always sold out!
Raymond Allen - attended Ryde Secondary Modern School where he was a keen member of the Drama Club. He later wrote the hit television comedy, "Some mothers do 'ave 'em".
Sir John Henry Corke - was born at 20 Cross Street, West Cowes on 12th February, 1850 and went on to become four times mayor of Portsmouth (1912 to 1915) and was Knighted by King George V in 1916 for his war work. He was also made a Chevalier of the Legion of Honour by French President Poincare in 1913.
Site links
Celebrities connected with the Island


---
Home | Introduction | Contents | Photos | Maps | Links | Quiz | History | Famous Islanders | Geography | Geology | Email
Books | Site Visitors | 1948 Guide | News | Phonebook | FAQ | Memories | Tunnel | What's on | Author | My other sites
---
Contains information courtesy of Isle of Wight Teachers' Centre with additional input from readers of this website
Cameras Compact Flash Gadgets Smart media

Dave Parker took most of the photographs on this site with a
Fuji digital camera - see similar cameras from Amazon


Shop online with Amazon - many discounts available!