Isle of Wight Nostalgia - links to other sites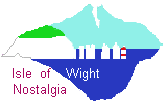 These links should open to a new web page. Close the page to return to this site. If you would like to suggest a suitable Island related site for inclusion, please let me know (email address at the foot of the page).
If you have your own website covering areas related to this site, I am more than happy for you to link to this site - preferably the 'home' page (index.htm). You are welcome to use the logo (left) as the link icon if you wish.
Some of these links can be a bit erratic and are not always available. If you find a link does not work please let me know. I will re-try over a few weeks after which I will delete the link. Many thanks for your help.
Transport; getting there and getting around

---
Transport | Attractions | Geology | Local information | Personal & Other | Towns & Villages | Site Contents |
---
Attractions
---
Transport | Attractions | Geology | Local information | Personal & Other | Towns & Villages | Site Contents |
---
Geology, Geography & Archaeology
---
Transport | Attractions | Geology | Local information | Personal & Other | Towns & Villages | Site Contents |
---
Local information & tourist centres
---
Transport | Attractions | Geology | Local information | Personal & Other | Towns & Villages | Site Contents |
---
Other interesting sites
Let me have any links to other interesting personal pages and I'll include them here
---
Transport | Attractions | Geology | Local information | Personal & Other | Towns & Villages | Site Contents |
---
Towns & Villages
---
Transport | Attractions | Geology | Local information | Personal & Other | Towns & Villages | Site Contents |
---


---
Home | Introduction | Contents | Photos | Maps | Links | Quiz | History | Famous Islanders | Geography | Geology | Email
Books | Site Visitors | 1948 Guide | News | Phonebook | FAQ | Memories | Tunnel | What's on | Author | My other sites
---