Isle of Wight Nostalgia - Ryde Pier
Ryde was once the main entry point to the Island for holidaymakers. The ferries used to moor at the Pier Head. Passengers would disembark and have a choice of how they got to Ryde - a quarter mile stroll, a tram or a steam train! The trams and steam trains don't feature on the pier these days although the Island railway is still here. Click here for a reminder of steam days!
---

Ryde always looks so attractive and welcoming.
---
The trains are now usually only two or four cars in length. They are old London Underground trains, built in 1938. Despite this the Island has a superb record for punctuality.
---
This platform is rarely used. This grass has self seeded in sand only a few feet above the ocean! It had been tidied up the next time I visited.
---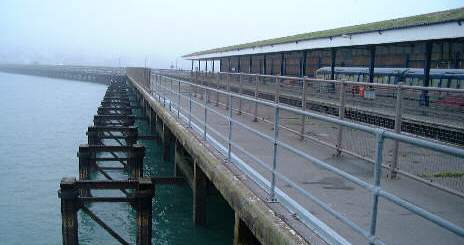 The pier once boasted four platforms plus two additional tramway platforms.
---
Another view of Ryde on a sunny day.
---




---
Home | Introduction | Contents | Photos | Maps | Links | Quiz | History | Famous Islanders | Geography | Geology | Email
Books | Site Visitors | 1948 Guide | News | Phonebook | FAQ | Memories | Tunnel | What's on | Author | My other sites
---