Isle of Wight Nostalgia - Havenstreet railway 1

The Isle of Wight once had a thriving, extensive network of railways (see map). By 1966 the only tracks left were from Ryde to Newport via Havenstreet, from Newport to Cowes, and from Ryde to Ventnor via Shanklin. The line south of Shanklin and the entire Newport & Cowes section were closed and the remaining track electrified as far as Shanklin. Fortunately, a small section of track near Havenstreet was preserved; And with great effort services now run from Smallbrook (a junction with the electric railway) to Wootton via Havenstreet.
---
Engine no. 24, Calbourne an Adams 02 class. These were the engines that provided motive power for the bulk of the passenger trains and were much loved by enthusiasts and Islanders alike. This engine transferred to the Island in 1924 and was operated from Ryde shed for most of its service (with a brief loan to Newport shed after the war).
---
---
Calbourne again, coupled ready to depart for Ashey & Smallbrook Junction.
---
This is the Westinghouse Air Pump that enabled the brakes to function. These pumps make a rhythmic sound difficult to describe, but when mixed with country sounds on a hot summer afternoon, typifies the charm of the Island. I will add a WAV sound file when I next visit.
---
This carriage would have worked the picturesque Ventnor West branch.
---
The roomy interior.
---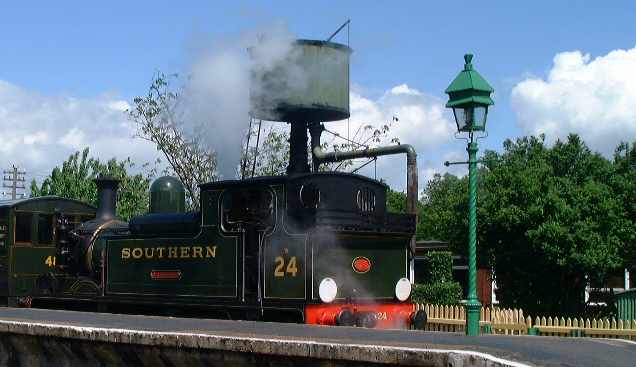 ---




---
Home | Introduction | Contents | Photos | Maps | Links | Quiz | History | Famous Islanders | Geography | Geology | Email
Books | Site Visitors | 1948 Guide | News | Phonebook | FAQ | Memories | Tunnel | What's on | Author | My other sites
---