West Cork &amp Kerry, Ireland
Presented by Dave Parker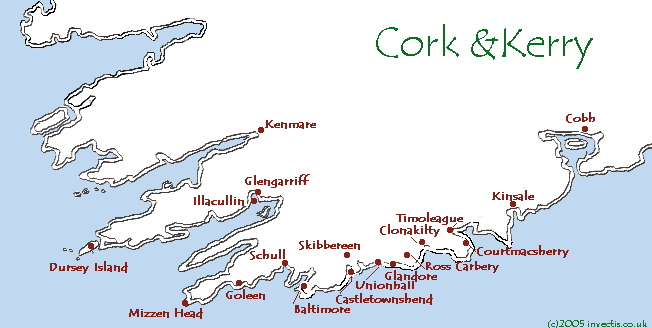 There have been
visitors to this site
WebCounter
Welcome to County Cork & Kerry. I recently visited south west Ireland. It was my wife and not myself who selected the holiday destination. But within minutes of arriving I was completely overwhelmed by the beauty of the scenery and the welcome of the locals. As a tribute to this beautiful part of Ireland, I have put together my photographs on this website. If you know the area, I hope it brings back fond memories. If you've never visited, I hope these pictures inspire you to visit in the future. To access the site, either click a location from the map above, select from the index below or take the full tour. Not all sections of the site can be accessed from the map. Clicking an area of the map where there is no town will open a window displaying ordnance survey map index numbers.
There are photographic pages below featuring the towns of Clonakilty, Skibbereen, Baltimore, Kinsale, Unionhall, Glandore, Cobh, Schull, Castletownshend, Glengarriff, Courtmacsherry as well as features on Mizzen Head (radio station & lighthouse), Garnish Island, Dursey Island, and the railways of West Cork.
---
Index:

---

---
Booklist: click on book title to get more details from Amazon books
Here are some books which may be of interest. Click the book title to get a review and availability from Amazon, the on-line book sellers.
Lonely Planet: Ireland
by Tom Smallman & Fionn Davenport
A guide book to the quieter places. But be careful; this is a popular book!
Collins touring map: Ireland
A must for drivers (but the Ordnance Survey maps are essential if you intend using the smaller roads)
McCarthy's Bar
by Pete McCarthy
Hilarious - I wish I had read this before I travelled. Better than any guide book.
Reading the Irish Landscape
by Frank Mitchell & Michael Ryan
The shaping of the Irish landscape - covers areas of geography, history, geology, archaeology, botany & zoology.
Irish Place Names
by Deirdre & Laurence Flanagan
A guide to the history and meaning of Irish towns, villages and hamlet names.
Round the Island with a Fridge
by Tony Hawks
Irish comedy from this popular comedian.

Click to display geographical index of discovery series maps for this area
Discovery map 70
1:50,000 scale map covering Dingle peninsula
Discovery map 78
1:50,000 scale map covering Kenmare & Killarney area
Discovery map 83
1:50,000 scale map covering the Ring of Kerry
Discovery map 84
1:50,000 scale map covering the Beara Ring
Discovery map 85
1:50,000 scale map covering the Bantry & Glengarriff area
Discovery map 87
1:50,000 scale map covering Cork, Bandon & Kinsale area
Discovery map 88
1:50,000 scale map covering Mizzen Head & Skull area
Discovery map 89
1:50,000 scale map covering Skibbereen & Clonakilty area
Killarney National Park
1:25,000 scale map covering the Killarney National Park and surrounding area
Schull and Skibbereen Railway
by J. I. C. Boyd
A superb book describing not only the railway itself but the relationship between the community and the railway.
Absolute beginner's Bodhrán Tutor
by Conor Long
Easy to follow guide. If you bought a Bodhrán and don't now know what to do with it, buy this book!
Play 50 Irish Ballads with only 6 chords
Play Irish music on your guitar.
---

---
Contacts, information & links
---


---
Travel
---


---
This website supports a charity to find a cure for Crohns disease. It affects many young people and a cure may be just around the corner - see here. If you are looking for a charity to support this is a really good cause. You can donate direct or use the donate button below and I will forward all donations.
©2001-2014 Dave Parker