Wakehurst Place Gardens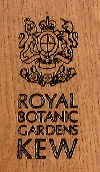 Wakehurst Place is located between London and Brighton, in spectacular Sussex countryside. The gardens are part of the famous 'Royal Botanic Gardens' of Kew. They are open to the public most days (excluding Christmas &amp New Year's day). A seed bank is being constructed here, and will help to ensure the survival of plant species.
The gardens are beautiful at any time, but never more so than in the Autumn. Each of the photo galleries below contains half a dozen views on the theme of the sample photo. I have attempted to ensure the images display in high quality - but this inevitably means slightly slower downloading. I have kept the size of individual photos below 50kb wherever possible.
---
Gallery 1


Lakes &amp streams - see the
reflections of autumn colours
on the lakes.

---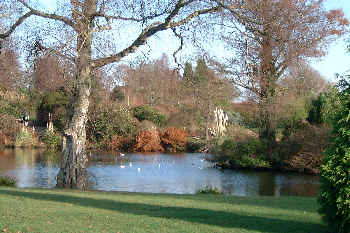 Gallery 2


More pictures of the
lakes &amp streams. There
are several lakes at
Wakehurst.

---
Gallery 3


The mansion. Visitors
to the gardens can view
part of the mansion,
which also hosts a gift shop.

---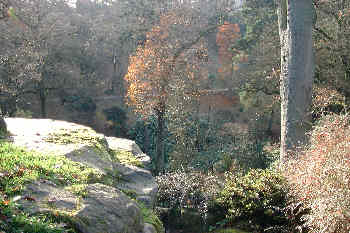 Gallery 4


This gallery is dedicated
to the colours of Autumn.

---
Gallery 5


More Autumn colours and
a superb view towards
Ardingly resovoir.



---
Gallery 6


More of the mansion, and
adjoining buildings etc.

---
Gallery 7


The Himalayan glade.
Visitors to this part
of the garden are rewarded
by these magnificent views.

---
Gallery 8


Photogenic footpaths lead
the visitor through miles
of spectacular scenery

---
Gallery 9


More scenic paths.

---
Gallery 10


Everywhere there are great
views as these pictures show.

---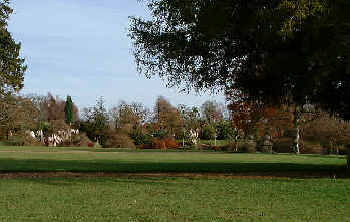 Gallery 11


Some of the open
grassy areas, close to the
more formal gardens.

---
Gallery 12


Yet more paths. Images
that make you want to
walk into the pictures
and see what's around
the corner!

---
Gallery 13


And finally a few pictures
left over but too good
to miss. Picture number three
with a rainbow like spot is
a sun pillar. The sun is to the
right of this picture, however
the cloud type has created this
optical effect.

---
I hope you have enjoyed these photographs. I intend to develop this site by adding sections devoted to each season - the galleries above will form the Autumn section. I have more photographs of beauty spots in the south of England on my sites listed below.
---
See the seed bank under construction
HOME | SEED BANK | GALLERY 1 | GALLERY 2 | GALLERY 3 | GALLERY 4 | GALLERY 5 | GALLERY 6
GALLERY 7 | GALLERY 8 | GALLERY 9 | GALLERY 10 | GALLERY 11 | GALLERY 12 | GALLERY 13 | EMAIL
©1999-2003 Dave Parker
---