Isle of Wight Nostalgia - HMS Cavalier - built by J. Samuel White, Cowes
Early in 1942, Samuel White's shipbuilding yard in East Cowes was badly damaged in an air attack. Reconstruction began during the summer but with an improved design, which made it possible to introduce new pre-fabrication and welding techniques. The first ship to be built after reconstruction was HMS Cavalier and this ship acted as a guinea-pig for the new techniques. Her hull was constructed with a combination of the new welding techniques and traditional riveting.
HMS Cavalier was one of 96 War Emergency Destroyers based on the highly successful and innovative Javelin Class hull, designed and ordered by the admiralty between 1940 and 1942.
To combat the U-Boat threat, the 'J' class were built with less armaments thus allowing increased speeds (15 to 20 knots) and with 25% better fuel consumption.
In 1972 Cavalier, in company with HMS Rapid, carried out full power trials and both ships attained speeds of up to 32 knots.
---
A painting of Cavalier which has been donated to a museum in Chatham Dockyard by Michael Sam Smyth and Elinor Crockford, Medway Resident EX R.N.R. 17th Feb 2000. The painting is by Ray Gargett.
---
Fortunately HMS Cavalier has been saved from the scrap yard and is being preserved at Chatham Dockyard. The old battleship is uniquely honoured - it is permitted to fly the White Ensign flag - normally the privilege of ships serving in the fleet. These photographs are all from Chatham which is open to the public.
---
The Cavalier had an open bridge - great for visibility, but it must have been extremely cold when serving in Artic latitudes!
---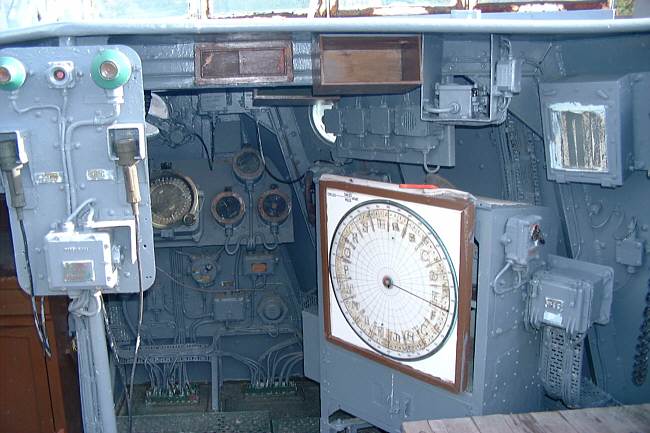 Another view of the open bridge.
---
Warmer, but a room with no view. Navigation instructions were shouted down from the bridge via a tube to a horn in the wheelhouse below. This room had no window so the instructions from the bridge had to be followed exactly!
---
The officers' dining room - relative luxury on an otherwise spartan working ship!
---


---
Home | Introduction | Contents | Photos | Maps | Links | Quiz | History | Famous Islanders | Geography | Geology | Email
Books | Site Visitors | 1948 Guide | News | Phonebook | FAQ | Memories | Tunnel | What's on | Author | My other sites
---