Isle of Wight Nostalgia - Removal of Ventnor Pier - almost...
Ventnor Pier was in decline for some years following a fire and damage from stormy seas. In May 1993 it was decided to remove the bits that survived. A demolition barge was sent in. The pier however was not going without a fight.....
---
Another minor storm caused the demolition rig to break from its moorings.
---
Rescue helicopters were called to remove non-essential personnel from the rig.
---
---
The cliffs to the West of Ventnor can be seen in the background
---
The remains of the pier's pilings can be seen in the background.
---
---
---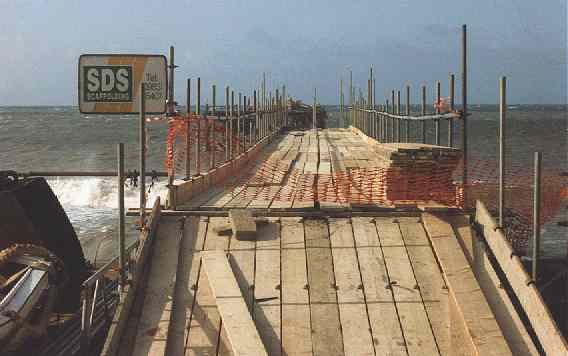 This was the last of the pier. This is now the site of a large 'hole in the sea'! The local water company are working to improve seawater quality by managing discharges into the sea. A dam has been built and a large excavation can be seen from the cliff. The scene looks odd with a deep dry hole only a few metres from the waves. When the workings are complete, the town have been promised a bandstand on this site.
---
The Ocean bar at the end of the pier as it once stood. The actual bar and café were slightly off this picture to the left.
---
Sadly the pier eventually lost the battle. Perhaps one day another will be built.
---


---
Home | Introduction | Contents | Photos | Maps | Links | Quiz | History | Famous Islanders | Geography | Geology | Email
Books | Site Visitors | 1948 Guide | News | Phonebook | FAQ | Memories | Tunnel | What's on | Author | My other sites