Isle of Wight Nostalgia site - Helpdesk
Use the search box below to perform a detailed search of this site. Enter your keyword(s) and click on 'find'
If you can't find what you're looking for here there is an excellent service on the Isle of Wight Index where you are able to deposit messages. These are often in the form of open questions and appears to be used by many Islanders. Click the icon below to link to the IW Index site's message board.
Or alternatively why not search the extensive Amazon booklist? There's a link below - type in your subject and click the 'search' button. You might even find the odd video about the Island!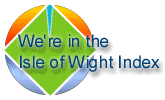 Message Board
UK Telephone Directory
Selection of popular Island telephone numbers


---
Home | Introduction | Contents | Photos | Maps | Links | Quiz | History | Famous Islanders | Geography | Geology | Email
Books | Site Visitors | 1948 Guide | News | Phonebook | FAQ | Memories | Tunnel | What's on | Author | My other sites