Isle of Wight Nostalgia - Guest Gallery - Debby Smith
All the photographs on this page have been supplied by Debby Smith who lived on the Island as a child. Thanks Debby for sharing these!
---
Cypress Road, Newport around 1962. Doesn't the road look tidy without cars parked everywhere? In the background is St. George's Down and the Chalk Pit.
---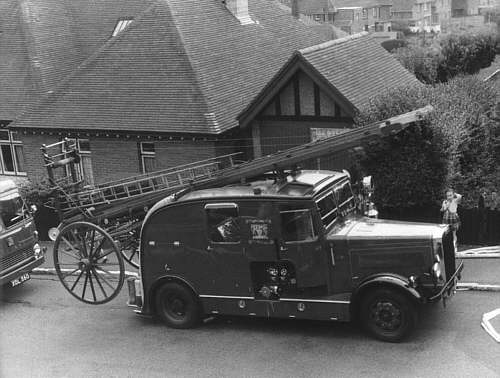 The day the "Sun Trap", an old wooden building (possibly once the pavilion for the tennis club) burned down. The dwelling was owned by two ladies, one of whom was a bus conductress for Southern Vectis. These two magnificent engines were soon on the scene (around 1960). For those interested in such detail, the number plate on the rear appliance is XDL560.
---
Debby's Morris Minor parked in Cypress Road around 1961. The number plate would be worth a fortune today.
---
Debby's father owned the 'Island Frozen Foods' company and therefore owned this van as well! It is seen here parked outside the firm's offices in Mill Lane, Newport. Island Frozen Foods were later taken over by Upward & Rich whose offices were in Pyle Street, Ryde.
---
This 1961 view of Quay Street Newport shows again the lack of cars. What a sight the row of unused parking bays would be to today's motorist. Note the metal parking space markers embedded into the tarmac - much nicer than white lines!
---
Newport Quay in the summer of 1960. The railway crossed the river Medina near by on a swing bridge.
---
Further along the river towards Cowes in the Folly Inn, photographed here in the mid-1960's.
---
This shot of the railway was taken across the River Medina from the Folly Inn.
---
The diving platform in Cowes with the Hanseatic in the background.
---
A 1960's view of the Cowes vehicle ferry.
---
This shot of the Fishbourne vehicle ferry was taken in the early 1960s
---
Debby's brother at the entrance to Puckpool Park, Ryde. The uniform was for Carisbrooke Convent, closed in the early 1960's - the buildings now form part of the Catholic Primary School between Carisbrooke & Newport.
---
And finally Debby in her garden in Cypress Road.
---


---
Home | Introduction | Contents | Photos | Maps | Links | Quiz | History | Famous Islanders | Geography | Geology | Email
Books | Site Visitors | 1948 Guide | News | Phonebook | FAQ | Memories | Tunnel | What's on | Author | My other sites

Photographs on this page ©2000 Debby Smith
Isle of Wight Nostalgia Site ©1998-2002 Dave Parker