---
The tram outside Blackgang station on a fine summer's day.
---
The tram at the far end awaiting return. The signs to the front of the tram (on the fence) were made using a vinyl cutter.
---
Proof that three adults can fit in the tram! The largest load to date was a driver, two adults, a child and a dog! In fact the tram has the power to tow additional wagons with a dozen more passengers if ever needed.
Another evening view waiting to depart. I used old fashioned filament bulbs in the tram saloon. These take more power but the light is more 'realistic' of the era. The garden lighting is all LEDs.
---
---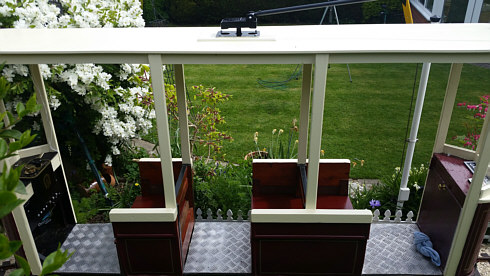 .
.
---
The tram interior showing the coach lighting. This view also shows some of the garden lighting improved with a re-wire when the track was laid.
---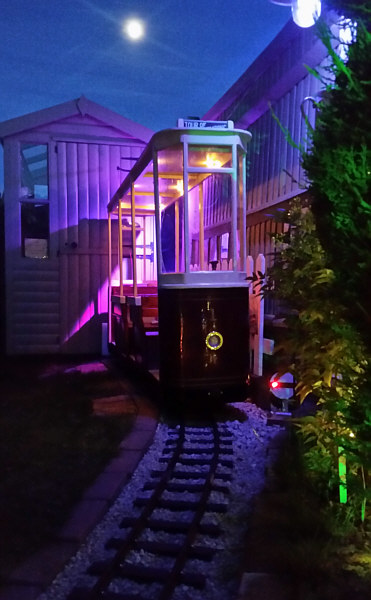 &nbsp
Two more shots showing the tram by day and night.
---
&nbsp
More spring blossom along the track.
---
Another late evening view with the tram waiting at Blackgang station starting to resemble a Ghost Train under the eerie blue light! There's another tram stop here, also a replica made with the vinyl cutter.
---
And two minutes later the tram is ready to depart!
---
© 2018 Dave Parker