5 inch Gauge Garden Tram for sale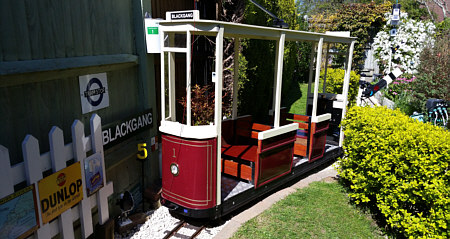 Brief description
The tram body/chassis was purchased in August 2016 as a project for renovation. The main problem was that the electrical system and motors didn't work. The restoration was undertaken by 'Ride on Railways' using new wheels, their iDrive system and installing an authentic looking tram controller. The restoration involved treatment and replacement of some of the woodwork, some re-painting and installing a pantograph! The team at 'Ride on Railways' posted pictures of the renovation work on their Facebook page (details on my garden railway website where there are also more pictures of the tram in service). The tram was delivered to me with renovated electrics in October 2016.
The tram is electric and uses two 12 volt car batteries for power. These will power the tram for over four hours if required (assisted with re-generative braking). I believe it runs at 12 mph but my small garden hasn't allowed me to fully test this! The tram has three seats and adults can fit in as long as they are not too tall; there's a picture on my garden railway website with three adults on board including my son who is over 6' tall! The tram has couplings and can pull other carriages for more passengers. The tram has forward and reverse (from a single driving position) running lights (back, front or off) and interior saloon lighting. The electrical system provides re-generative braking however there is no hand-brake. It has a foot-operated loud bell. The controller includes a battery condition indicator.
The tram is approximately 90" in length, 20" wide and 50" tall (excluding the pantograph). If you need me to check the dimentions more accurately to ensure it's compliant with your railway's loading gauge, I'll be happy to do so.

Evening cab ride (YouTube)
Despite its shape, the tram has proved very stable in operation with a very low centre of gravity. I purchased a high quality tarpaulin to keep the tram dry in wet and windy conditions. This works well but due to the large surface area of the tarpaulin and the trams springs, the covered tram tended to sway in very strong winds (it doesn't when the cover is not being used). To fix this I use a webbing strap secured to hooks screwed into the grass (used to tether dogs leads at camp sites!).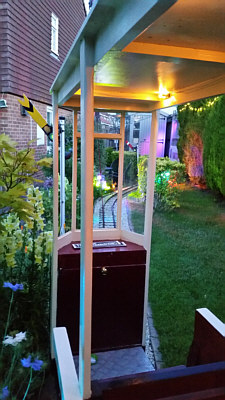 Reason for sale
My small garden railway is built on a raised part of the garden. In order to get the tram to and from safe winter storage it needs to be lowered from the raised section (which due to obstructions requires it to be turned 90 degrees) in order to get it safely on it's wheeled trolley. This has proved difficult due to the restricted space and weight of the tram; it ideally needs four adults. The tram has been moved three times to date and with regret, I've decided it's too much effort (and there are not always four strong adults available to order)! The tram would be suited to a location where there is an engine shed as part of the layout or alternatively where the track is on the level with the access path; it would be relatively straightforward to lift onto the trolley if on the same level and once on, the tram can be very easily moved around.
The photo above shows the tram on it's wheeled trolley (to be included in the sale)
What needs doing
Nothing needs doing - it's ready to run. There are a few things on my 'to-do' list which you may want to do at some point. It's possible I may get around to a couple of them prior to the sale. +
The paintwork looks wonderful from a distance in the sunshine but on close inspection would benefit for a lick of paint, especially the cream window frames and roof. Much of the paintwork is original.
I have wired in the interior saloon lighting. The wires (low voltage) are all fixed but need sticking to the corner of the roof; you can see from some of the pictures what I mean. This would probably go hand-in-hand with a coat of paint which would all but completely hide any wiring.
The back-end (inside) has not been touched as part of the renovation. It's acceptable as it is (see the photos above) but could perhaps do with a rub down and touch up of paint.
I've don't have a workshop where I can turn the tram on it's side and grease the wheels etc. and it might be worth doing this at some point.
I've added LED lights as status indicators of running lights etc. I've used long wires to enable the panel to be removed for service / changing the light bulb etc. Due to their length, these wires can sometimes hand down and you may wish to add a small shelf or other adaptation (such as a cable tidying device)to keep these wires in place.



Details of sale

Price: was £3,675, now £1,200 or offer for quick sale. Price includes:
Tram with all fittings, decorative pantograph, destination boards, bell, working running lights and interior lighting
Wheeled trolley for moving the tram
High quality green tarpaulin, made to measure, to protect the tram from wind and rain - with webbing strap to secure against gales.
Collection only - located in Sussex.

Contact details

Due to the volume of junk mail, I have had to remove a direct link to my email address. Please type in the address as follows:







If you can't read this, hover the mouse over the image.




reliablecounter.com