The development of Lisbon's tram track network from 1959 to 2018
by Dave Parker
Following a trip to Lisbon, I was facinated by the city's tram network, especially the news that the network is starting to increase in size after years of contraction. I managed to find some maps of the network on Wikipedia / Wikimedia showing the network of trackwork and the tracks that are used by tram routes for 1959 and 2011. As the images were on an identical scale, I had the idea of creating an animated version - furthermore I updated the 2011 version with the partially re-instated route 24E in April 2018 (it had not been possible to completely restore the route as additional work was required on part of the track). The image below will slowly loop between the three dates 1959, 2011 and 2018. For 2018, I have added route E24 in blue.
This animation uses original artwork avaiable from Wikipedia created by user Dom-kun who retains the intellectual property rights (full details below). I have edited the original documents with the date and on the 2018 frame, the ledgend and route for 24E for which I take full responsibility for any errors.
---
Videos:
I have loaded a number of videos (in HD) to YouTube. Click below to open a video; they open in a new page. Close the page after viewing to return here.
---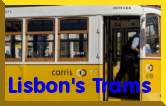 Return to main Lisbon Tram page
---
Map credits: Wikipedia user Don-kun created and owns all rights to the original maps.
from

websites